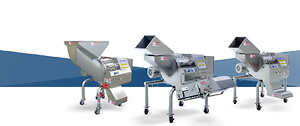 NEW! DiversaCut 2110A® Dicer with Discharge Conveyor
The DiversaCut 2110A (with Conveyor) Dicer (above, middle) offers a turnkey approach to processors. It accepts a maximum infeed product of 10" (254 mm) in any dimension and offers cost savings by eliminating the need to precut products. The built-in conveyor guarantees a successful transfer point to maximize product quality and improve yield. The conveyor facilitates batch processing into totes or onto conveying systems or platforms. The new machine also eases routine servicing by maintaining the machine at floor level.
The DiversaCut series offers boundless versatility across food industries. DiversaCut models are widely sold to reduce vegetables/fruits, bakery ingredients, dairy inclusions, meat/poultry/seafood/pet food, and alternative plant-based products.
The dicer is equipped with a 5 HP (3.7 kW) motor and 1/4 HP (.19 kW) conveyor motor. The machine features continuous operation for uninterrupted production and is designed for easy cleanup and maintenance. The tight proximity of each cutting station in relation to the next creates a compact cutting zone. This results in precision cuts as the product moves throughout the process.
The DiversaCut 2110A® Dicer dices, strips, slices, granulates, and shreds at high production capacities.
All models offer cost-savings by limiting the need for pre-cutting of products. Standard DiversaCut 2110A and Conveyor Discharge both accept products up to 10" (254 mm) in any dimension. Large Product Input machine accepts products as large as 14" (356 mm) in diameter.
All models feature high capacity production capabilities and continuous operation for uninterrupted production. The compact cutting zone, completely separate from the mechanical zone establishes precision cuts as the product moves throughout the process. Slice adjustment dials and locks in the slice size. Adjustable collars on circular and crosscut spindles provide fine-tuning for ultimate precision.